Meet Our Staff
JC Music's staff is made up of musicians who are friendly, knowledgeable and who make our customer's experiences fun. They're always happy to help you with instruments, accessories, repair questions, finding the right teacher for lessons or with renting a band or orchestra instrument. They are also always here for general music chat. Stop by and get to know our professionals!
We are the best of the small, family-owned local music stores in Meriden, CT and the staff at JC Music is dedicated to providing an educational and enjoyable musical experience. We can help guide you through your musical journey – from instrument sales, music lessons, band and orchestra rentals, and a complete repair service, our friendly team has the ability to serve your every musical need.
At JC Music, we make musicians! Our goal is to make music accessible to anyone with an interest in any musical instrument, by providing affordable quality instruments and instruction.
We strive to make music an integral part of each person's life. Each staff member at JC Music is a musician, too, and there is nothing we like better than meeting and talking with other musicians. JC Music has become known for the past twenty-six years as the friendliest of local music stores and staff that exists.
Come visit our staff in our no-stress, relaxing store environment and our Free Wi-Fi cafe area. Our staff supports music educators throughout Connecticut along with encouraging young musicians on a daily basis. JC Music's staff works closely with the Yale School of Music: Music in School's Initiative to create solo competitions each year for young aspiring musicians. Many customers find our staff's passion for music to be contagious! So stop by JC Music today or give us a call and become a part of our musical family!
JC Music Staff Directory
Mason Prigitano – Assistant Manager/Educational Representative
Mason joined the JC Music staff in 2016. He has a strong musical foundation built on both guitar and voice, and is an active singer/songwriter. Mason has also studied trumpet, saxophone, and piano. He became an Educational Representative for the store in 2018, and he works with music educators and schools throughout the state. In 2021, he was promoted to Assistant Store Manager, while also maintaining his role as an Educational Representative.
Mason's greatest passion since 2015 has been with audio engineering and music production. He is currently designing a recording studio and a music production curriculum for JC Music to implement into its educational offerings. Mason has composed and recorded many of his own songs and has produced music for several local artists, along with helping numerous JC Music customers build their own home recording studios.
JC Caillouette – Director of Operations
As a musician, JC has experience playing and performing since age 6. He studied for six years with the late drummer Jim Roszelle from the group Spiral and six years with world renowned and internationally recognized jazz drummer Ed Soph. He later studied percussion for four years with Constance Coghlan, principal percussionist of the U.S. Coast Guard Band.
As a musician, JC has performed with many area bands and has performed/toured for many Broadway shows as the former drummer for the On Stage Performers. JC is also a former brass player with the JC Lentini Band of New Britain as a euphonium player, and was an original member of The Connecticut Brass. He also played drums for the Rock/Blues based bands UpBeat and TBC.
As a conductor, JC began as a director/conductor for several years at the New Britain Summer Music Workshop, and has been an orchestral director for numerous musical productions throughout the state. He has directed award winning bands at both the middle and high school levels, was a community division percussion instructor for Central Connecticut State University, and has been a director/conductor with Connecticut's Augusta Curtis Concert Band since 2005.
JC obtained a Master of Music Education Degree from CCSU, where he received the President's award for Academic Excellence in the field of Music. JC offers conducting and theory instruction, along with teaching a summer course designed for future music educators.
Paul Kamenitsky – Rental Director
Paul attended Eastern Connecticut State University and graduated in 2013 with a Bachelor's degree in Music Performance, with his applied degree in Mallet Percussion. He has been playing and performing as a percussionist since age 8 and as a pianist since 2002. Paul has performed with the Hamden Symphony Orchestra, the WesWinds Ensemble at Wesleyan, the Willimantic Orchestra, the Thread City Jazz Ensemble, and with the Augusta Curtis Concert Band, where he performed as a featured pianist in 2016.
Paul has been JC Music's Rental Director since 2015 and played a primary role in JC Music being named by Veritas as 'National Instrument Rental Affiliate of the Year' in 2019. Paul also teaches drums, xylophone, and piano at JC Music.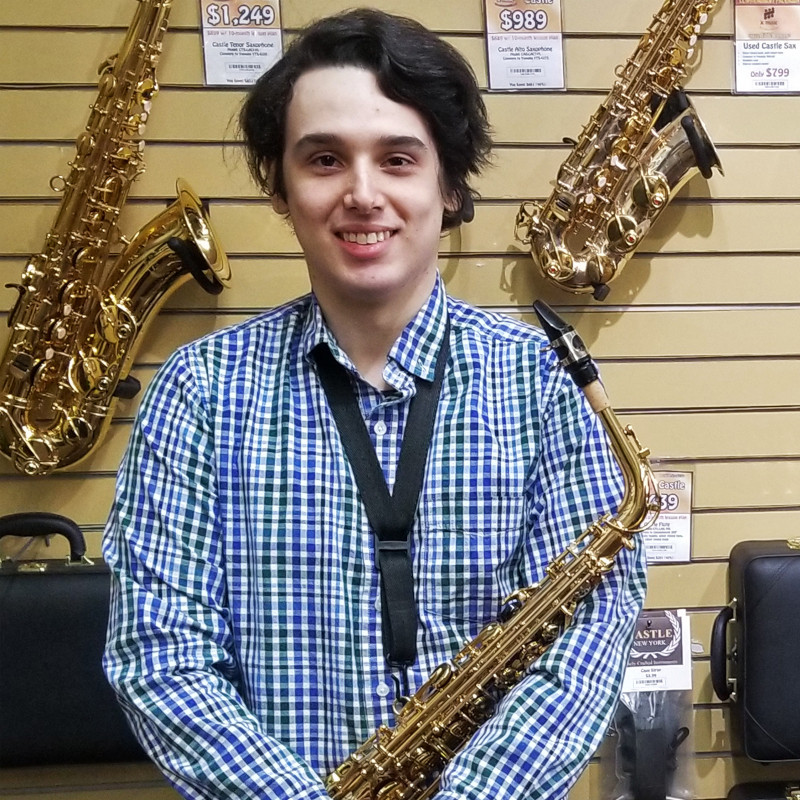 Myron Perreault – Director of Music Lessons
Myron is an experienced saxophone player, who been playing soprano, alto and baritone sax since 2008. He is a product of the music programs in the Meriden Public Schools, where he performed in numerous ensembles at Lincoln and Platt, including marching bands, concert bands, jazz bands, and pit orchestras.
In 2015, Myron received the Louis Armstrong Jazz Award for outstanding jazz performance and was selected to perform in the Charter Oak Music Festival. Myron studied saxophone at JC Music with legendary local jazz saxophonist Bill Fischer and has been a member of the Augusta Curtis Concert Band since 2016.
Myron joined the JC Music staff in 2015 and has held multiple leadership roles. He currently works in customer service and online sales. His greatest joy is discovering new music, and listening to the performing styles of musical artists. He enjoys interacting with customers as a result, and enjoys helping them find what they need to follow their own musical journey.
Wayne Caillouette – Print Music Director
Wayne has been JC Music's print music director since the store was founded in 1988. He manages the store's inventory of over 6,000 print music selections and places weekly orders for private music instructors, along with band, orchestra, jazz and choir directors throughout the state.
Rob Bobok – Consignment Director
Rob is an experienced guitarist of over 15 years and is skilled in electric and acoustic, baritone, and bass guitar. He studied for several years under rock guitarist Billy Kotsaftis of Morgan Skelly & The Old Crows and Eddie Seville / Steel Rodeo. Rob has played in bands at local venues such as The Space and The Webster Underground.
Rob is always willing and eager to discover something new, but his interests span nearly all genres, including rock, metal, folk, jazz, classical and modern EDM. He is also a vinyl record enthusiast and has dabbled in keyboard and digital audio production in a wide range of styles.
Sean Haight – Director of E-Commerce
Sean is the newest member of the JC Music sales team, and works with e-commerce, marketing and sales. He is currently attending the University of New Haven in pursuit of a Bachelor's degree in Music Industry and a Master's degree in Business Administration where he is studying the ins and outs of managing and running a music-related business, as well as the uses of online marketing and social media for advertisement and e-commerce.
Sean is an experienced percussionist and drummer, and has been playing and performing since the age of 8. He has performed with percussion ensembles, orchestras, musical theater groups, concert bands and jazz ensembles.
Sean plays for his university's marching band and has played for a musical theatre production there as well. He has been playing professionally for several years for local theatre productions, working alongside several experienced Connecticut-based musicians. Additionally, Sean is a current member of the Connecticut Hurricanes Drum & Bugle Corps under the Drum Corps Associates (DCA), where he plays Tenor Drums on the drumline.
Application for Employment