Our Music Teachers
Below, find a listing of our music teachers, and the instruments that they teach. Learn more about our music lessons here!
Bill Fischer (Saxophone/Flute)
Bill is a graduate of Lyman Hall High School where he played under the direction of Dr. Otto. He also studied at the Berklee College of Music under Joe Viola. Bill performed with the Choate Summer Jazz Program under Phil Wilson and has over 40 years of professional experience performing on the saxophone with numerous local and national acts. He also studied with the famous jazz artist Jackie McLean. He currently is an active member of the Augusta Curtis Concert Band, and has been since 2005.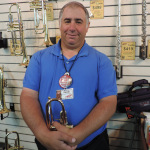 Kevin Sandler (Brass)
Kevin Sandler has been involved with Music in CT for 35 years. Kevin holds a B.A. in Music from Western Connecticut State University. For over the past 25 years, Kevin has performed as a soloist throughout Connecticut including Stamford, Norwalk, Danbury, Waterbury, New Haven and Hartford. He has been heavily involved in the community, performing with many ensembles including The Danbury Symphony Orchestra, The Danbury Brass Band, Park City Pride Combined Alumni Drum & Bugle Corps as well as performing with Musicals at Richter and other community theatres. He has been involved in various Marching Bands and Drum Corps across Connecticut. This includes being a Brass instructor for the Bridgeport P.A.L. Buccaneers, Park City Pride Alumni Drum & Bugle Corps as well as the CT Hurricanes Drum and Bugle Corps. A highly sought after teacher, Kevin's students have consistently won positions in auditions to participate in Middle School and High School Regional and All-State festivals. Currently, Kevin is the Music Teacher for St. Augustine Academy in Bridgeport, CT.
Brian Chrzanowski (Piano/Trumpet)
Brian started taking piano lessons at age four. He has been a school accompanist in elementary, middle, high school, and college. Brian still plays for school concerts and trips, which include playing for adjudications in Virginia, Hershey (Pennsylvania), Toronto, and Epcott Center in Disney World. Brian has a degree in music from CCSU and has also studied at Plymouth State College in New Hampshire. Along with the piano, he has been taking trumpet lessons since the 5th grade. He has played lead trumpet in Symphonic and Jazz bands in both high school and college. Brian is enthusiastic and excited about instructing the serious student in the art of creating music.
Philomena Nesci (Piano)
Philomena has been playing piano since she was 6, percussion and clarinet since she was 13, and has also been trained in music theory and voice. She is self-taught in pipe-organ, Irish tin whistle, and rhythm guitar and ukulele; she also has a basic knowledge of most band and orchestra instruments. Philomena has studied under Sara Kohane (Classical Piano), Brian Chrzanowski (Classical/Jazz Piano), Paul Kamenitsky (Auxiliary Percussion, Mallet Percussion, and Rock/Jazz Drum Set), Louis Nesci (Clarinet), JC Caillouette (Music Theory), and Stacy Perrone-Petta (Classical/Broadway Voice). She has been the principal organist and a chorister of Our Lady of the Rosary Chapel in Monroe, CT since 2016 and has been a member of the Augusta Curtis Concert Band since 2017, where she is a percussionist and a guest-conductor. Philomena has also played in the percussion sections of the Colchester Choir and Orchestra and the WesWinds Ensemble at Wesleyan College. She is the founding member and pianist of the instrumental rock 'n' roll band The Ice Pac. She has played all of her instruments – especially piano – in various venues and settings, in a variety of styles including classical, jazz, pops, and rock. In the 2021 International Make Music Day Young Composers Competition Philomena received an honorable mention for her composition "Here I Am", and in 2022 she sang at the Meriden Daffodil Festival. Philomena is currently attending CCSU for her bachelors degree in Music Education. Philomena believes in providing a solid education in basic music theory as an indispensable part of the piano lesson. She is very excited to teach anyone of any age who has a deep passion for music!
Chuck Peterson (Drums)
Chuck Peterson has been involved in music since his early childhood. Following in the footsteps of Jeff Porcaro, Steve Jordan, and Keith LeBlanc, he pours out energy and passion into playing a wide variety of genres. He has experience in rock, jazz, hip hop, country, funk, latin, R&B, reggae, and orchestral music. Chuck has played and recorded with: Funkee Boy, Nic Gonzales (Salvador), Jean Sandoval, Jaeme Brennan, Mike Greca, Nekita Waller, James Chappell III, Darrell Evans, Driving Reign, Skip McDonald (Sugar Hill Gang) (Little Axe), Doug Wimbish (Living Colour), Tim Rouse, (Lauryn Hill) (Run DMC), Howard Hill (Charlie "Bird" Parker) (John Coltrane) (Art Blakey), Sugar Hill House band, Eugene Jacquescoley Jr., who is related to hip hop artists Nate Dogg, Snoop Dogg and others. He has also recorded with R&B group The Gablz for the music soundtrack to the Martin Lawrence movie, "A Thin Line Between Love and Hate," under the band name Dark Complexion. Chuck has also worked with several producers, including Vic Steffens (Snarky Puppy, Tony Levin, Steve Gadd), and Rob Treloar (Roberta Flack, Queen Latifa, Natalie Cole). Music that Chuck has recorded has been featured on the radio radio in the United States, Japan, Australia, England, Middle East, Italy, and France. Chuck has toured the United States and Canada with a variety of artists. He also recorded for major labels such as Warner Brothers Records, Island/Def Jam Records, and International Records/Middle East. Chuck is also affiliated with The Motown Alumni Association, which became a direct link to the legendary Motown session group The Funk Brothers. The remaining legends heard Chuck's drumming and enjoyed what they heard, dubbing him an honorary Funk Brother.
Donny Fortin (Drums)
Don graduated Berklee College of Music where he majored in Performance as a Drumset Principal. He graduated from CCSU with a degree in Philosophy and a Concentration in Music. He has also studied percussion in Havana. Don has studied the drumset and percussion with many instructors including Casey Scheuerrell (Jean Luc Ponty), James Haddad (Dave Lieberman), John Ramsey (Jazz Messengers), John Hazilla, Dave Dicenso (Hiromi), Tom Melito (Jerry Bergonzi), Tom Dest, Frank Giguere (Street Temperature) Victor Mendoza (Papquito D'Rivera), Connie Coughlan (U.S. Coast Guard Band), Jim Clark, and was also one of JC Music's first drum students when he studied with JC Caillouette (Owner of JC Music). He presently teaches many students at JC Music, performs with Janie's Junk Show, the Jay Bernard Band, and Soul Tsunami. He has performed as a drumset artist for Laurie Katherine Carlsson (Seattle) and Maggie Kim. Don has performed reggae with Marvin and the Sunrays and jazz with the Carl Knox Trio, Hail Bop Jazz Quartet and with performed with Punksters Mute.
Ed Diaz (Guitar)
Ed holds a Bachelor of Arts degree in Music from WCSU. There, he studied with some of New England's finest professors in both the classical and jazz genres. Over his many years of study, he has had private lessons with (in chronological order): Pat Russo (rock/metal), Ron Stebbins (classical/jazz), Steve Famiglietti (jazz), Jamie Begian (jazz), and Chris Morrison (jazz/fusion). Ed has played all over the state with his band Clearlight Industries. Thomas Pizzola of the New Haven Advocate wrote that "Diaz is an accomplished guitarist, able to whip off ripping solos and make it look effortless". Many of Ed's students have gone on to form bands of their own. Some have even pursued music at the collegiate level. He is an extremely versatile musician, having studied most every guitar style imaginable. Ed is comfortable playing anything from classical to jazz to metal and everything in between. He keeps current in the latest guitar developments whether it be guitar-synth or fretless guitar. When not playing guitar, Ed can often be found in the studio producing and engineering, and as the owner of a project studio, he keeps up on all the latest music-related hardware and software. He even builds and configures computer audio systems for use as production stations. So, whether you're a beginner looking for a proper foundation, a hobbyist looking to address specific areas of you're playing, or an experienced player looking to take their playing to the next level, Ed likely has the knowledge and experience to help you get there.
JC Caillouette (All Instruments/Theory)
As a musician, JC has over forty years of experience in playing and performing on musical instruments. He studied for six years with the late drummer Jim Roszelle from the Hartt School of Music and the group Spiral. JC then studied for six years with world renowned and internationally recognized jazz drummer Ed Soph. Ed has performed with Stan Kenton, Woody Herman, Clark Terry, Eddie Daniels and countless others along with presenting master classes throughout the world. He went on to study percussion for four years with Constance Coghlan, principal percussionist of the U.S. Coast Guard Band. He has performed with many area bands and has performed many shows as the former drummer for the "On Stage Performers." He is a former member of the "JC Lentini Band" of New Britain and the Rock/Blues band "TBC." As a conductor, JC has been with the Augusta Curtis Concert Band since 2005. JC obtained a Master of Music Education Degree from CCSU, where he received the President's award for Academic Excellence in the field of Music. Although JC is an accomplished musician and teacher of most instruments, he is presently JC Music's faculty member offering specialized musical studies to those students seeking instruction beyond a musical instrument.
Jeff Howey (Voice/Piano/Guitar/Ukulele/Clarinet)
Jeff has been teaching music since 1972. He graduated from The Hartt School of Music and has taught in multiple schools, and most recently retired from Hamden Hall Country Day School after 25 years of teaching. He is the Choir Director of the Bethany Lutheran Church and he has been a vocal soloist at several area churches and a performer at many restaurants and parties. Jeff has also been seen on stage with Gilbert and Sullivan of Middletown, Aspen Dream Productions, Park Road Playhouse, and Mayfly 24 Hour theatre. Jeff has studied voice with Mary Mack, Dr. Peter Harvey, and Gerald Mack. He studied piano with Herbert Chatzky, Charles Gigliotti, and Bruce David Smith. Jeff is an all-around musician, capable of teaching dual Guitar/Vocal lessons, and he really enjoys working with his students, making the process of learning and performing fun.
Jon Peckman (Drums)
Jon Peckman has been playing professionally for over 30 years and can be seen performing all over New England and beyond with various regional acts. He is also a published author of the instructional book "Picture Yourself Drumming". His encouraging coaching style is perfect for beginners as well as advanced players in any style with a focus on rock and song-oriented styles. He can also accompany you on bass guitar in your lessons so that you can experience the fun of making music with others right away.
Keith Leblanc (Drums)
Keith LeBlanc started out as a session drummer with Sugarhill Records, early 1980's. He formed the Sugar Hill House Band with fellow Americans Doug Wimbish (bass) and Skip 'Little Axe' McDonald (guitar), working with leading rap artists as The Sugarhill Gang (Rapper's Delight) and Grandmaster Flash and Melle Mel on The Message and Freedom. From his own Malcolm X No Sell Out, the first ever sampling record, on Tommy Boy Records (1983) to his involvement in creating the sound of funk noise giants Tackhead with Wimbish, McDonald and British dub producer Adrian Sherwood, he has gained recognition as one of the top and most innovative drummer/programmers around. His landmark album Major Malfunction (considered to be the first Tackhead recording, although credited to LeBlanc solo) was of great influence to a whole generation of musicians. The album, a reaction to the 1986 disaster with space shuttle Challenger, started off a whole new genre of industrial music. Apart from his work as member of the legendary On-U Sound posse, Keith LeBlanc has continued to experiment with new sound using his own Blanc Records as a base from which to release pioneering albums and push musical boundaries even further. Apart from that he made seven sampling CD's so far for the Advanced Media Group with loads of drum samples and sound effects, free for anyone to use. His writing and production skills have attracted the likes of Living Colour, Peter Gabriel, The Cure, Ministry, and Nine Inch Nails. As a drummer/programmer he has worked with everyone from James Brown to Trevor Horn, Seal to R.E.M., The Rolling Stones, Annie Lennox, Jalal (Last Poets), The Stone Roses, Robert Palmer and Bomb The Bass. He also produced Charles & Eddie's hit record Would I Lie To You, along with Tim Simenon of Bomb The Bass. More recent work includes sessions for Annie Lennox, Tina Turner, Brian Ferry, Sony artists Sunscreen, Babylon Zoo, Sussan Deyhim, Depeche Mode, Doug Wimbish, Sinead O'Connor, Little Axe and of course Adrian Sherwood's solo project Never trust a hippy. 'KLB' is currently exploring the boundaries of jazz (an early love) with Manu Ventura's band Boah Ground.
Paul Kamenitsky (Perussion/Piano)
Paul attended ECSU and graduated in 2013 with a Bachelor's in Music Performance, specifically mallet percussion. He has been a percussionist since age 8 and a pianist since age 14. Paul has played with the Hamden Symphony Orchestra, the WesWinds Ensemble at Wesleyan, and the Augusta Curtis Concert Band in Meriden.
Shawn Matyasovszky (Guitar/Theory/Piano)
Shawn Matyasovszky is a classical guitarist from CT. He has performed with groups at and around CCSU. These include the CCSU Guitar Ensemble, the Hartford Classical Guitar Ensemble, as a soloist with the CCSU Sinfonietta, and as a soloist with our local Augusta Curtis Cultural Band. As a solo performer, Shawn has interests in Baroque and Renaissance era music. Shawn trained as a classical guitarist with CCSU and Hartt School of Music professor Christopher Ladd. He holds a BA in Music from CCSU. As an educator, Shawn has a strong focus on musical literacy and ensemble playing. He has been active in the classroom guitar programs in both Plainville and Bristol Central high school. He has also worked with the After-School Program at the Middle School of Plainville. Shawn teaches students of all age groups and skill levels.
Sierra Manning (Voice)
Sierra Manning is currently earning a B.S. in Music Education at CCSU. As a vocalist, she performs with the CCSU University Singers, and is Soprano section leader. Sierra serves as the President of the school's chapter of the National Association for Music Education, and as Secretary for the American Choral Directors' Association. Sierra has performed with the Simsbury Light Opera Company (SLOCO), and CT Lyric opera. She has also participated in countless musicals throughout her musical career. Sierra is also the director of the Musical Theater camp at the Meriden YMCA. Sierra is excited to share her passion of music with her students!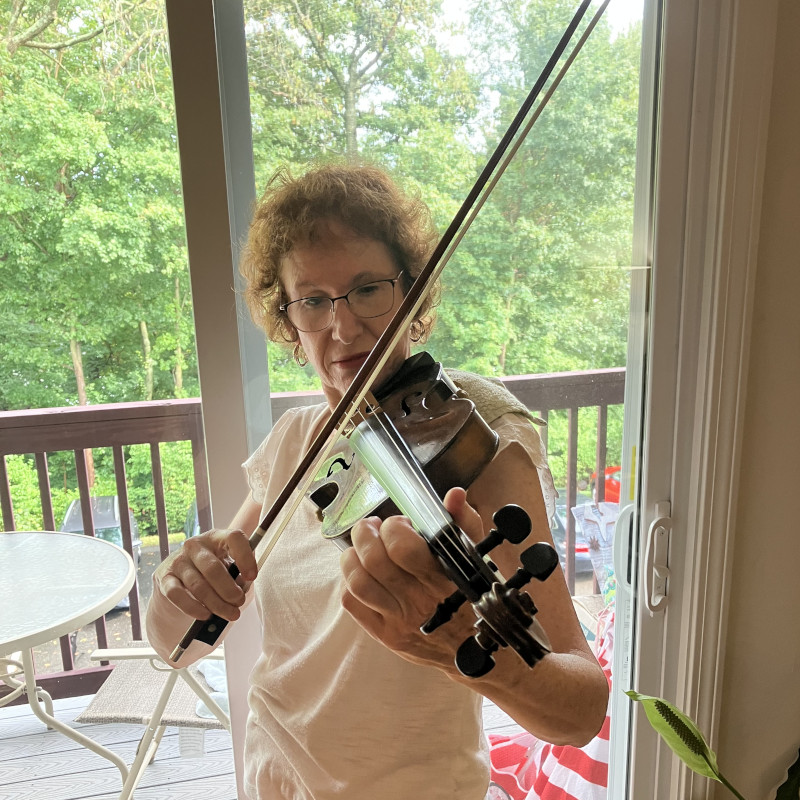 Jill Polisson (Strings/Piano)
Jill Polisson received her Bachelor of Fine Arts Degree from the University of Connecticut, and her Master of Arts Degree from the Graduate Institute. She taught Orchestra and Piano classes for the Amity Regional School District for 15 years and Piano and String Orchestra classes for the Meriden School District for the past 6 years where she also currently teaches. She has experience teaching at the elementary, middle school and high school levels. She has also taught adults at the Neighborhood Music School in New Haven, CT. Jill also plays the cello in the Civic Orchestra of New Haven and the Hamden Symphony Orchestra.
Music Lessons

JC Music offers lessons year round! We are proud to offer a wide variety of music lessons for voice and most instruments. Because of our focus on students and education, we have become a leader in music education in Connecticut. JC Music also works closely with CMEA and the Yale School of Music's "Music in Schools" Initiative. We have highly qualified music teachers and are happy to work with you to find the most compatible match.
It is our goal at JC Music to make the learning of an instrument an enjoyable and educational experience. We offer bi-annual Student Showcases to give our students live performing opportunities. We also offer Summer music camps to keep our students inspired all year! Many former JC Music students have gone on to audition at prestigious universities. Many have gained entry into elite music programs. Some have received scholarships, while others have even returned to JC Music as part time faculty members!
Teaching Music
Teaching music was once an unconventional career choice, but it has now become quite popular. Many people from all over the world are taking up music as a career. JC Music's private instruction and live performing opportunities has made it a popular choice for pursuing musical career ambitions.
Many of our former students have also joined the music industry as teachers, composers, and performers. JC Music has a proven track record over its 25 year history of providing an unrivaled private educational program. Our serious standards are focused on each student reaching their potential though reading music, learning theory, and developing stage presence. This has inspired many of the most talented musicians known in Connecticut today!